Find out where you are on you path to agility.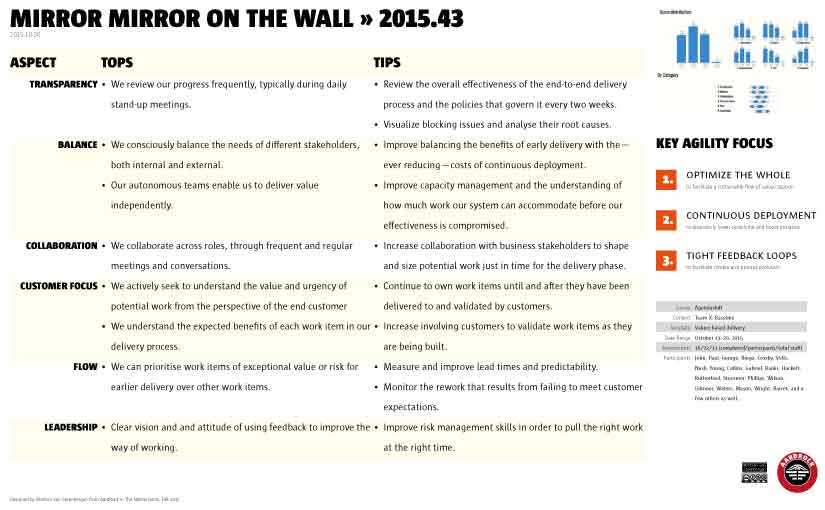 About 30 people in a lean startup context, with about one third coming from various internal departments and two thirds from external parties, assembled to completely overhaul the digital experience—website and apps—from a major Dutch company.
Only recently the group is complete, storming towards their goal. Each individual brings her or his own view on agile and lean, resulting in a potpourri of practices, each trying to find the best way to get going.
To streamline all these efforts and embed organizational and practical feedback loops, the group conducts a series of values-based Agendashift experiments. A six week cadence of Agendashift surveys provides the input for regular 'retroprospection'. The first survey has just been completed.
Based on the survey's results, a single lean style 'A3 Mirror' distills the essence of the first survey. Next survey is in a couple of weeks, and allows the team at large to check their progress in specific areas.
The results of the survey fall into two categories:
Tops

key areas that the team sees as their strengths;
a simple copy the survey's prompt.

Tips

key areas that can improve the team's way of working;
phrased as "instructions" in order to turn observations into action-oriented language—just like in the patterns of a Pattern Language; and
the source for three key objectives to bring focus on what matters most, and candidates to be turned into a limited set of Objective & Key Results.
Wishes for future revisions of Agendashift and the A3 Mirror:
generate the A3 Mirror directly from the survey results, facilitating continuous retroprosection or learning;
include vector-based charts in the A3 Mirror;
maybe just one or two key points per Top and Tip for each of the six focus areas in order to make it even more terse and comprehensive;
include a timeline of [[Flower Chart]]s to see the team coming to full blossom.
Related: